National Championships at Leamington 2017
Amy Rose Bowl
Hertfordshire put in a very creditable performance, in the first round they defeated Kent 36-23
Devon Cooper/Rebecca Turner/Hollie Bowles/Jess Eley bt S Carmichael 24-10
Rhianna Russell/Hannah Liddle/Rachel Tremlett/Becky Maynard lost to R Banks 12-13
In the second round we played a strong Surrey team and only lost 32-26, the defining moment being towards
the very end of the game when one of the Surrey skips (K Hampton) took out our wood to make a 6.
The rinks for this game were the same as in the morning with Jess Eley's rink losing to K Hampton 19-11
and Becky Maynard's rinks beating S Crates 15-13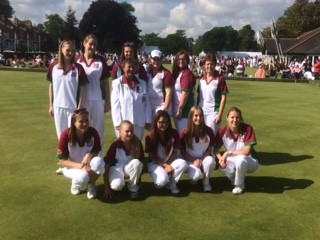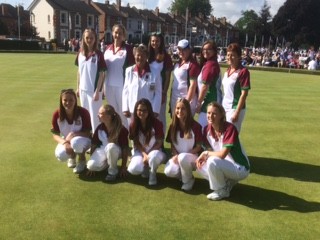 National Champion of Champions - Glenn Williams (Royston BC)
Glenn qualified for the last 16 of the National Champion of Champions, in the round of the last 16 he had a comprehensive 21-5 win over Chris Spurrey (Somerset). In the quarter final he played Andy Squire (Essex), an outstanding performance saw Glenn recover from 0-10 down and then score 17 unanswered shots from 4-14 down to win 21-14. The semi-final saw Glenn defeat Senior International Sam Tolchard (Devon) 21-13 to win his place in the final and subsequently be crowned National Champion of Champions with a 21-17 win over Russell Francis (Wiltshire). A truly magnificent achievement.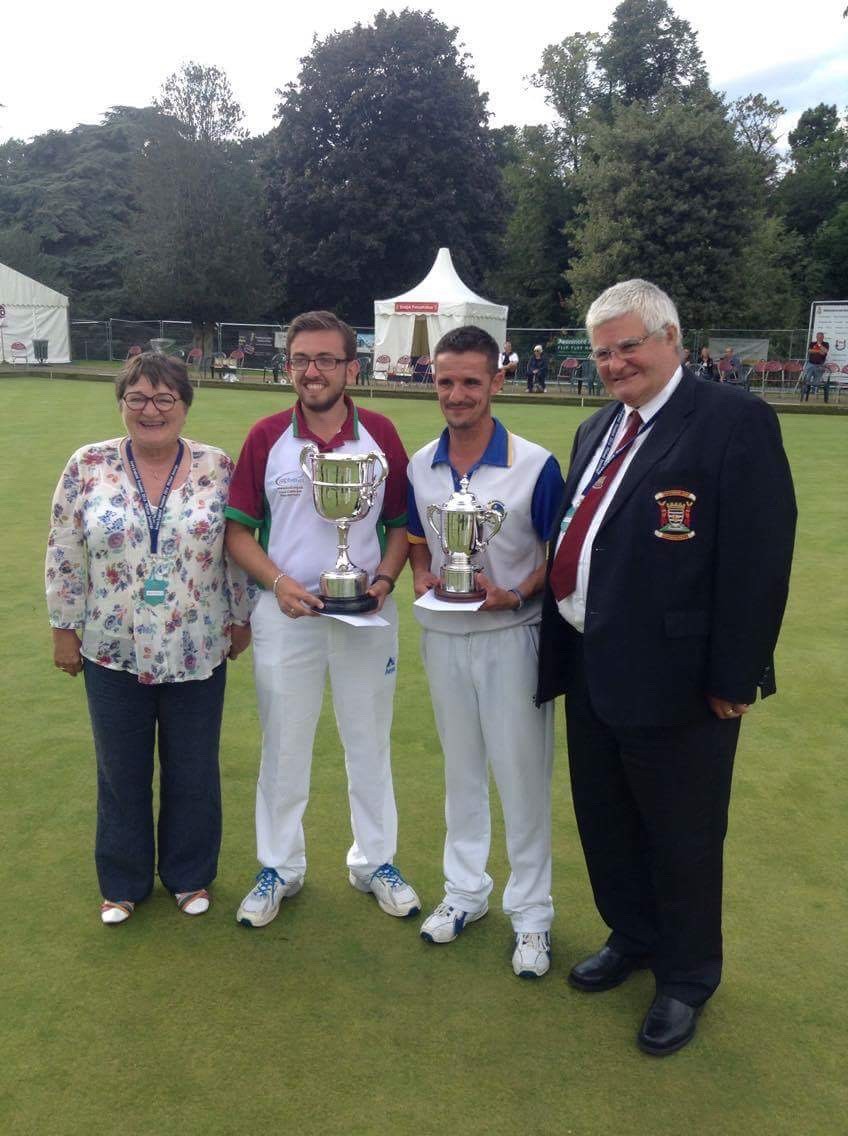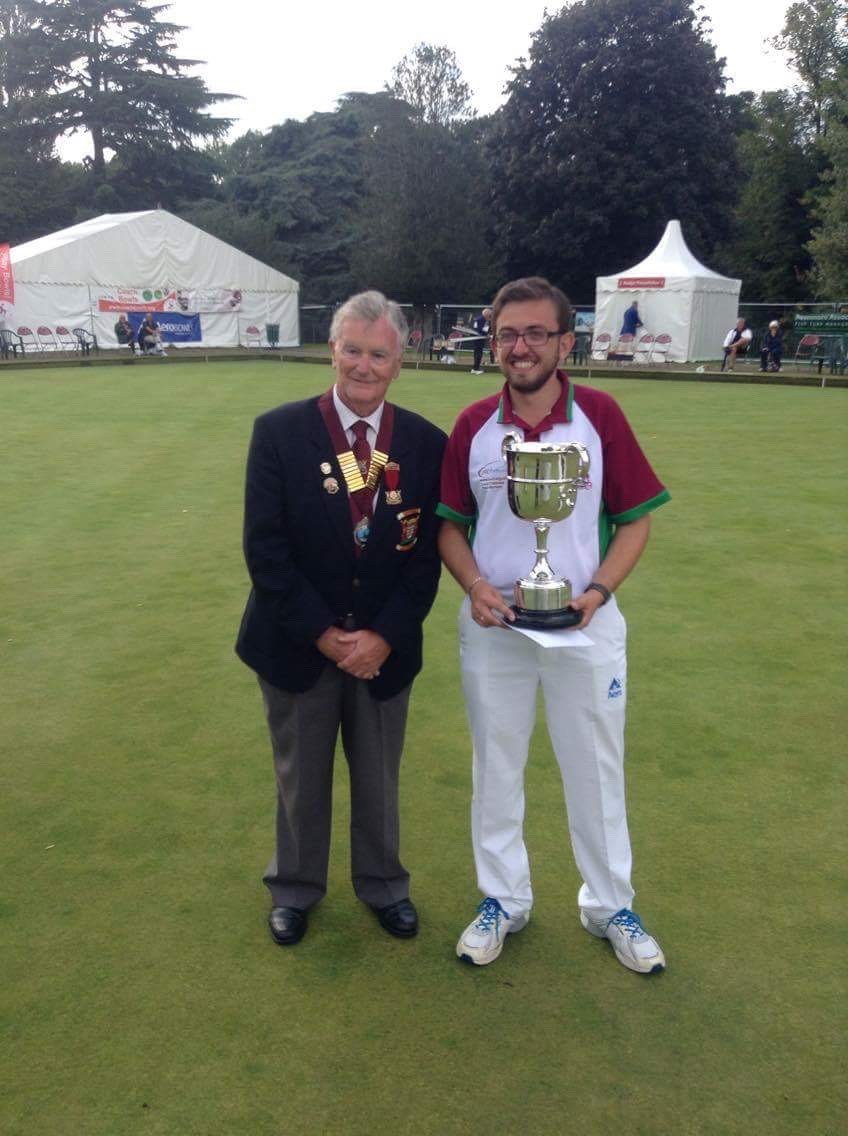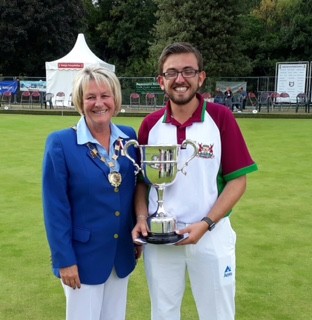 Junior Singles - Sam Andrews (Baldock BC)
The highlight for Hertfordshire was the performance of 12 year old Sam Andrews (Baldock BC). Making his first appearance a Leamington Sam was drawn to play the experienced Jack Miller from Northumberland in the first round. Sam played superbly to take a 9-1 lead, his experienced opponent then closed the gap and eventually took the lead and went on to leave Sam match down with one wood to bowl. A magnificent final bowl saw Sam draw the jack to save the game leaving him 20-19 down and then go on to draw two brilliant shots on the next end to win 21-20!
In the second round he played the talented B J Byles from Berkshire, a former Junior international. Although Sam lost 21-7 he played with great composure and maturity throughout. B J Byles then progressed to the National final ending as runner-up, only losing to the last wood of the game.
Sam being presented with his badge by Bowls England President, Viv Tomlinson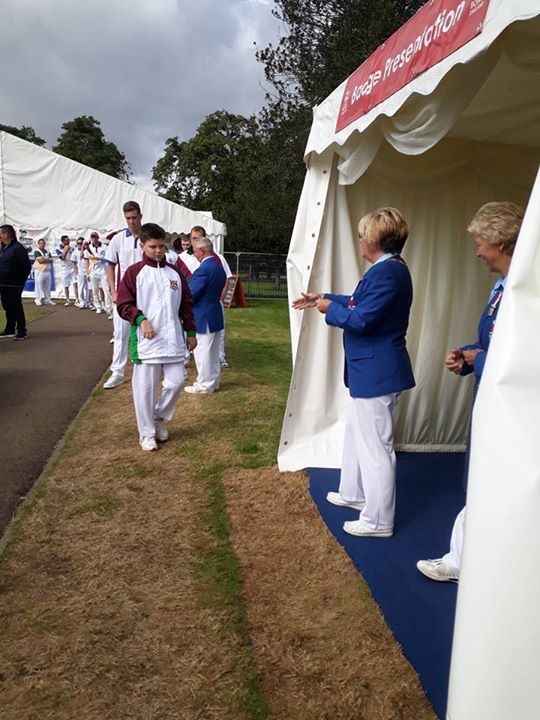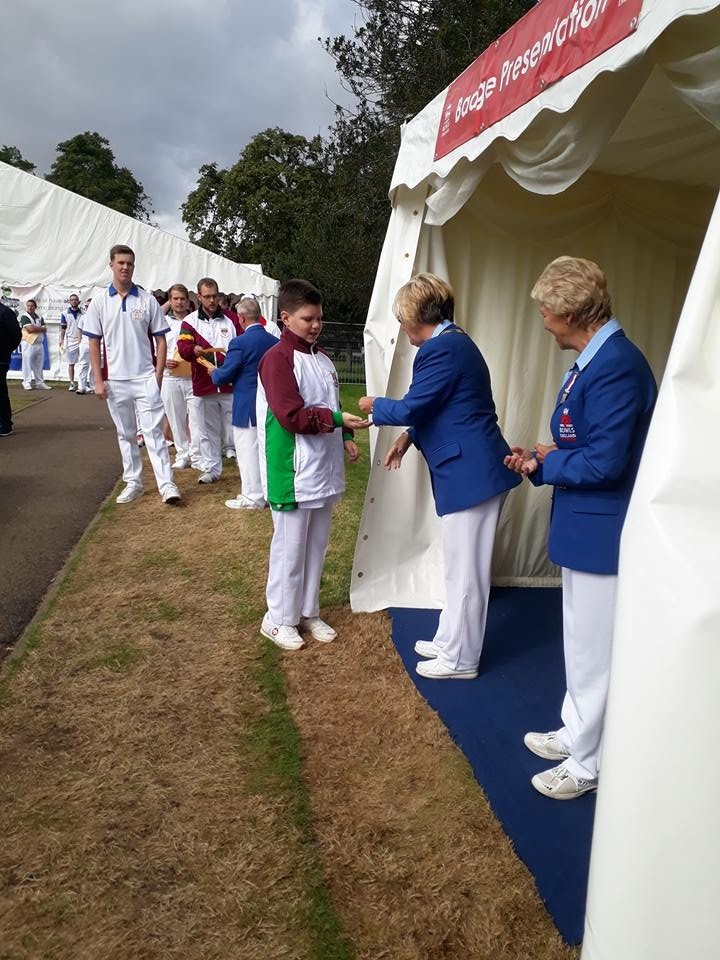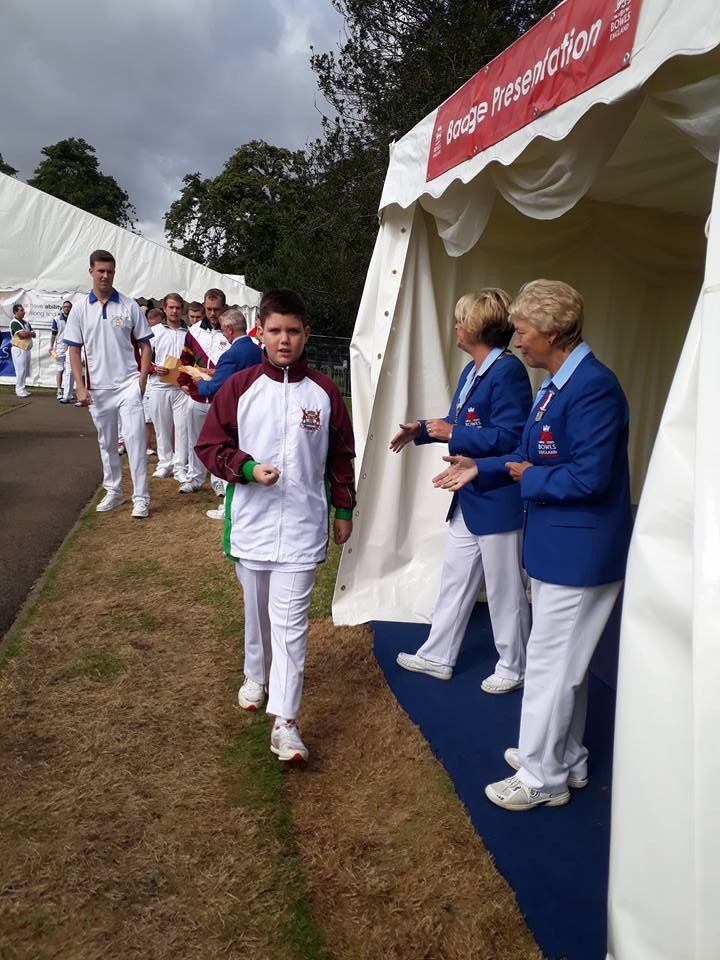 Junior Pairs - Devon Cooper (Baldock BC) & Rachel Tremlett (Royston BC)
Our Junior Internationals, Devon & Rachel, produced some superb performances to reach the semi-final where
they lost 14-13 to Emma Cooper & Morgan Merryweather (Berkshire) who then went on to win the National title.
En route to the semi-final, Devon & Rachel beat Surrey 36-3, Buckinghamshire 22-7 and Herefordshire 20-10.
Junior Pairs - Max MacKinnon (Baldock BC) & Daniel Knight (St Ippolyts BC)
Max & Daniel performed well, winning their first round before narrowly losing to an experienced pair from Huntingdonshire.
Sutton Winson Trophy - Jack Bunting (Potten End BC)
Jack was successful in winning through three rounds and reaching the last 16.
Sutton Winsor Plate (pairs) - Rhianna Russell (Welwyn & District BC)
Rhianna qualified for the Plate and played with Oliver Sloan (Nottinghamshire) reaching the semi-finals.